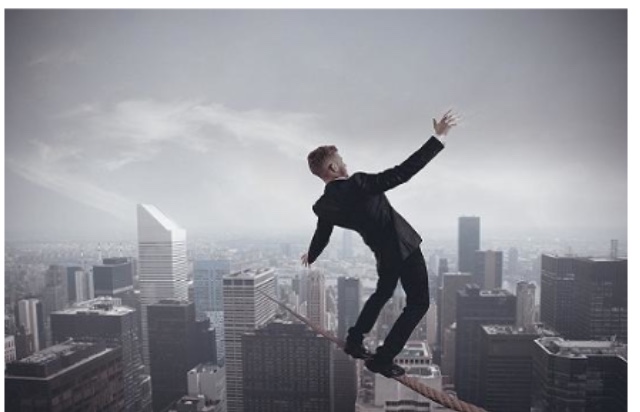 Sometimes you hit a wall and you don't know what to do. Phrases like "you can do anything you put your mind to" don't always help, and time to time they seem illogical and simply frustrating, because you tried to put your mind to whatever you are trying to accomplish but it. just. isn't. working.
The world will tell you "maybe you are not trying hard enough", "maybe you should change your attitude about the situation", but you know in your heart of hearts that you are doing your best, and somehow your effort isn't enough.
Is this the reason why we try to stay away from hard things?
But what if the problem isn't that you are not trying hard enough, but that you are approaching the problem the wrong way? You can't solve a math problem with a chemical reaction formula. You can't take a cancer patient to a farmer because he doesn't know how to treat cancer symptoms.
The problem is we try to do the hard things, God's dream for us kind of thing, with our own strength.
Remember why David defeated Goliath? because he was drawing his strength from God. He had his confidence in God not in his abilities and skills. The Bible says that Goliath was a champion (1 Samuel 17:4), he wasn't your everyday soldier, from verse four to seven, the Bible is describing what he was like. In other words, this was a scary man and he was threatening people of Israel. Talk about doing hard things, not only did it look impossible to beat Goliath, no one was willing to fight him…
But faith…
"Truly, I say to you, whoever says to this mountain, 'Be taken up and thrown into the sea,' and does not doubt in his heart, but believes that what he says will come to pass, it will be done for him". Mark 11:23
David wasn't your likely candidate but he had something others didn't have… faith!
All this young man had was faith.
All you need is faith. Faith attempts hard things for God.
Faith walks through darkness because it has eyes set on the blazing light and glory of God!
Now beware, the hard things will try to scare you, you will hear critics loud and clear shout that what you are trying to accomplish can't be done. Goliath, too, thought nobody could defeat him, that's why he was shouting "Am I a dog that you come to me with sticks" 1 Samuel 17:43
But whenever the hard things seem impossible? Remember and remind yourself that you serve a God who delights in accomplishing the impossible through His sons and daughters.
"Then David said to the Philistine, "you come to me with a sword and with a spear and with a javelin, but I come to you in the name of the Lord of hosts, the God of the armies of Israel, whom you have defied" 1 Samuel 17:46
You meet the God who walks on water, when you attempt hard things…
You experience who Jesus really is when you obey and are willing to do the hard things…
How else will we see God do the impossible if we never try the impossible?
How else would we know that we serve a God who walks on water if we are not willing to step out of the boat?
How else will our faith go deeper if we don't want to step out of our comfort zone?
"Most Christians spend their lives praying for signs, wonders, but avoid the very situations where a miracle can happen". Christine Caine
We may never know what God can accomplish through us if we are not willing to wholeheartedly lean on Him and draw from His strength. So what I am weak? His strength is perfect in my weakness! (2 Corinthians 12:9). So what I am scared of hard things, I will not let fear control me, "for God gave us a Spirit not of fear but of power and love and self-control" 2 Timothy 1:7
The only thing we should fear is banking on our strength…
Run toward the hard thing and you will see a side of God that you never knew…
Embrace the hard things and your faith and heart will go deeper with the Savior…
By God's grace, I am ready to step out of the boat and go meet Jesus…
Would you join?